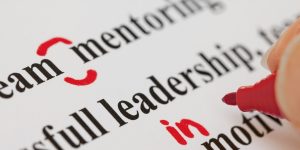 If you have the capability to clearly express your ideas but just need someone with a finer grasp of Standard Edited English conventions to look over your writing, Rhetorical Effect, LLC can help.
Little Things Make a Big Rhetorical Effect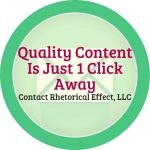 When it comes to the written word, little things can make a big difference in meaning and in the effect the content has on your audience. To say what you mean and keep the focus on that meaning, you need to make sure that your content is grammatically and mechanically perfect.
Non-Fiction Content Editing
Rhetorical Effect, LLC can perfect your content with editing services for a wide range of non-fiction prose, including:
Rates for Rhetorical Effect, LLC's content editing, copy-editing/proofreading, and citation checking are determined based on the length of the work and the turn-around time desired.
Editing Conventions
Some conventions of Standard Editing English are universal; some are not. A number of academic disciplines and publication platforms have their own set of grammatical and/or mechanical conventions. The content editor at Rhetorical Effect, LLC can edit your text according to any style conventions you require. Please let your editor know about any specific guidelines during your initial consultation and bring any style guides or other reference materials.
Contact Rhetorical Effect, LLC for a free half-hour consultation to discuss your content editing needs. We will prepare a custom quote to deliver the services you need at rates you can afford.
Content crafted to work for you