Rhetorical Effect, LLC offers content-for-hire to small businesses, non-profit organizations, and individuals so that they can increase and enhance their written presence without dedicating the time to do it themselves. Our content specialist strives to make the process as efficient as possible while giving you complete control over the content being developed for you.
Initial Consultation
The content development process begins with a free 30-minute consultation to discuss your needs. You may meet with our content specialist either on the phone or in person, but no matter the meeting platform, she will want to know:
What type of content do you need? (marketing, informative, personal)
Where will the content be published? (online or print)
What are your goals for the new content? (what you want your target audience to do after they've viewed it)
What is your expected turn-around time?
Your writer will develop a custom quote for content development services. If needed, you may negotiate services to better fit your budget. Once you accept the cost proposal, your content specialist will schedule an in-depth interview to get the project underway.
Interview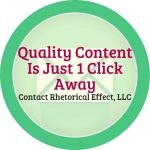 The interview is the most time-intensive step of the entire content development process. In order to write quality content and reflect your personal or business' expertise, your specialist must understand your industry, product/service line, and, most importantly, what makes you unique among your competitors.
Copywriting interviews may be conducted over the phone or in-person. In-person interviews are preferred if you have a product (line) or process that can be better understood if seen. The length of the interview depends on the number of pages you need written.
To help make the interview more time-efficient, your content specialist will send you questions to consider before your scheduled meeting.
Drafting
Once the interview is complete, your content specialist gets to work developing the pages, blogs, emails, or other products you need. Turn-around time depends on the volume and complexity of the content. A timeline will be established during the interview or shortly thereafter.
Copy Review & Editing
When the first draft is ready, your content specialist will email you the file as a Word document and/or Portable Document Format (.pdf). You (and anyone else you choose) will review the content to make necessary changes to ensure accuracy and desired tone and style. Send back the changes, and your content specialist will incorporate them and return the revised/edited draft. When all necessary changes have been made, you will sign the draft approval sheet.
The content is yours upon receipt of final payment. For web design clients, all copyrights are transferred to you (as signified by a change of copyright information in the website footer [if allowed by your selected theme]).
To get started building your online presence and credibility, contact Rhetorical Effect, LLC.
Content crafted to work for you