Successful business people know they can't do everything alone…and there's no reason to when you have resources like Rhetorical Effect, LLC for content development. Rather than assume the expense of in-house content developers or taking on the task of generating informative and marketing content day after day, week after week, month after month, get cost-effective content services from Rhetorical Effect, LLC. When you do, you get the benefit of:
Time and Money Saved
In the business world, time is money, and Rhetorical Effect, LLC helps you save both. When you delegate your website or content development to Rhetorical Effect, LLC, your content specialist only needs enough time with you to understand your business and your needs and goals. The writing is done for you, giving you quality original content for a fraction of the time it would take to develop yourself.
Content that Works
There's a lot more to developing quality content than getting enough words on the page or post. You need the right words that compel your audience to open your emails, click your links, buy your products, fund your projects, etc. You also need the words that authentically express who you are as a business or an individual. Rhetorical Effect, LLC delivers content that reflects your brand or personality and resonates with your target audience so that your content works to achieve your goals.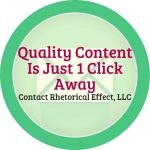 Increased Consumer Trust
When you have quality content to share with your target audience, you become their go-to source for reliable information. They trust you to answer their questions, keep them informed, give them tips, send them deals, etc. They also trust that you value their time and attention. When you keep that up over the course of several months, your prospective consumers become actual buyers, and your existing customers become raving promoters…and you can't put a price on that type of marketing!
Transparency
A lot of content-for-hire firms make promises they can't keep, but you never know what's going on. All you know is that the content you needed yesterday still hasn't been delivered. That will never be your experience with Rhetorical Effect, LLC. Our content specialist keeps in touch with you through the content development process so that you always know what to expect. If changes or challenges arise, you'll be the first to know, and Jackie will work with you to find creative solutions that meet your deadlines and budget.
Start saving your time, your money, and your marketing efforts. Contact Rhetorical Effect, LLC to get started with a free 30-minute consultation.
Content crafted to work for you